"I've learned that people will forget what you said, people will forget what you did, but people will never forget how you made them feel." ― Maya Angelou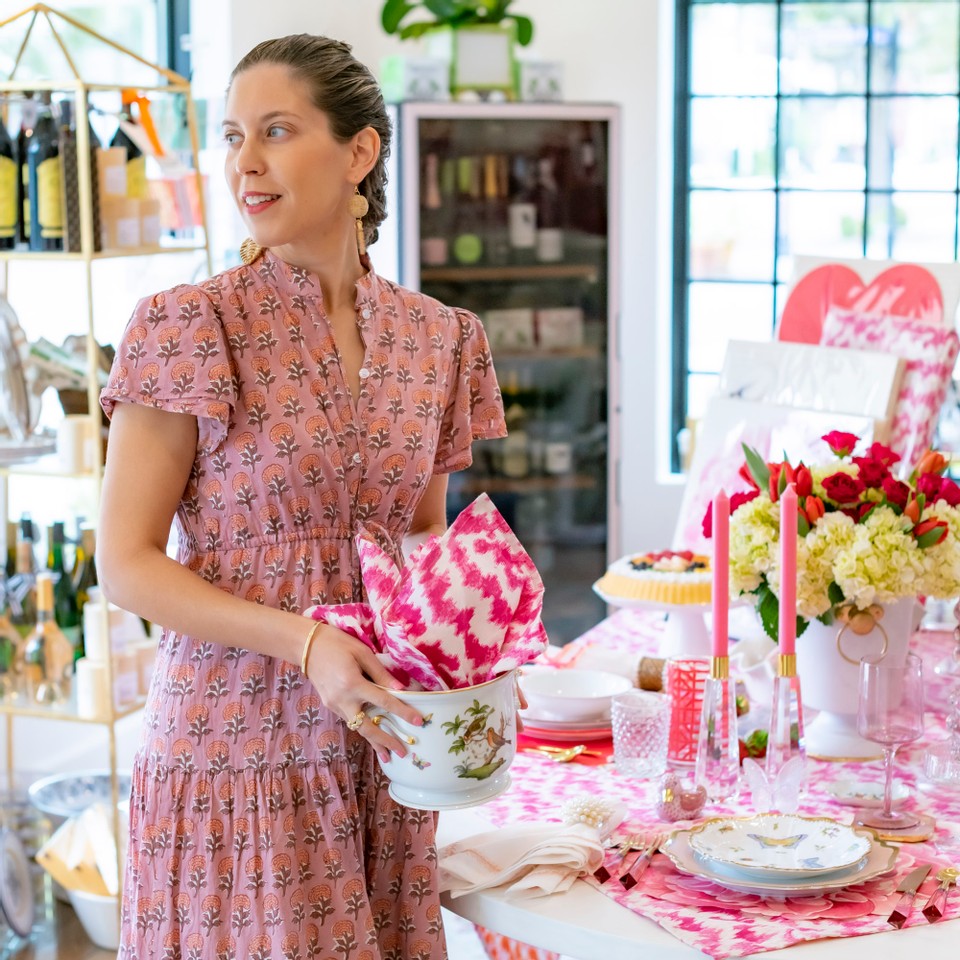 Regardless of your romantic status, there are many forms of love and they all deserve special attention. Valentines have come a long way since heart shaped doilies and pretty little rhymes. Flowers and chocolate are still a top priority but a little creativity can go far, and we are always a fan of "more is more." How are you choosing to celebrate this year? Will it be a romantic date night, a festive Galentine's party, or a sweet supper with the kids?
Lauren Crawford of @lauren_loves_gifting stopped by to give us three table settings to celebrate all the loves in our life!
Scope out her settings!
DATE NIGHT IN:
For a romantic night, we like to dress up, even when staying at home. Of course, how you choose to "dress up" is entirely up to you. You cannot go wrong with a smoking jacket for him, a caftan for you, and "Pink Martini" on Pandora. Get a little wild and try mixing up some new cocktails. While sipping you can slip away and map out a fun vacation – maybe this summer, maybe in 5 years...whenever and wherever it may be, enjoy the time just sitting and dreaming together.
Shop the Table
GALENTINE'S:
Galentine's is all about showing our love to the friends who help hold us up and keep us smiling. It's time to celebrate the ones you call when your kids are driving you bananas, or when you have determined that you are failing at life and they remind you that you are actually pretty incredible. Galentine's is more fun with a dress code. How about a pajama party, or a pink and red theme? Whip up a batch of cosmos, dive into the chocolates, and just like that, you have a party.
Shop the Table
FAMILY FUN:
Cupid certainly would never pass by the little ones, so neither should we. A family Valentine's is a short but sweet season since one day they, and the opportunity, will all be gone. This is all the more reason to make sure you enjoy the moment, so don't make it hard on yourself. The less time you spend cleaning up in the kitchen the more time you are spending with them.
Get the kids involved and decorate your table with beautiful paper placemats and plates. Have them glue hearts on kabob sticks and make a centerpiece. After supper, build an indoor fort and roast s'mores over a candle. This Valentine's is all about the smiles, giggles, and cuddles.
Shop the Table