Mardi Gras Mambo
A nod to one of our favorite traditions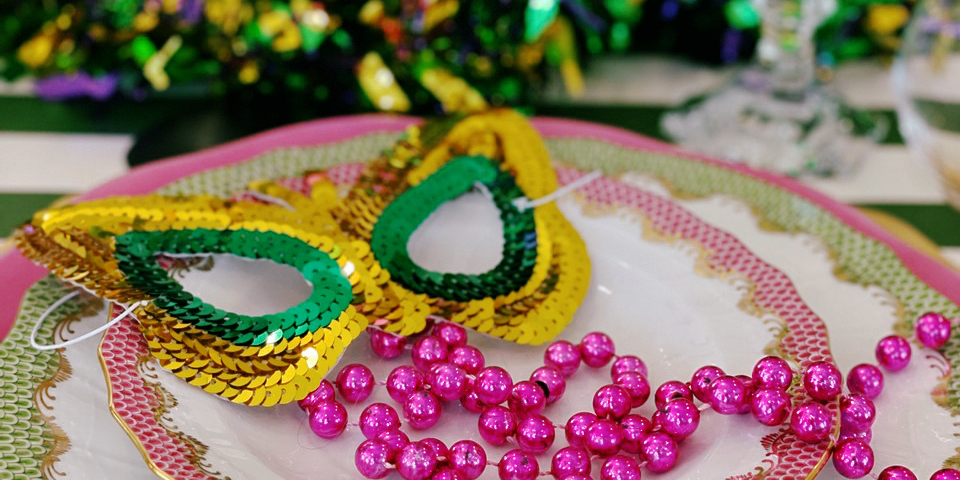 Yes, that's right friends, it is Carnival Season! For those who may not be as familiar with the traditions of Mardi Gras, the official season falls between Three Kings' Day (Epiphany) and Mardi Gras (Fat Tuesday). It is a season of frolicking, feasting and parades! Each parade is hosted by a "Krewe" and has its own unique history and theme. One of the craziest, and non-PG, is the Krewe du Vieux. It is known for its imaginative and creative street performance art. One of their past memorable themes was "Habitat for Insanity" and this year is the appropriately named "Vaxxed and Confused."
Now don't let Mardi Gras FOMO get you down. Winter Park may not have Mardi Gras parades but we sure do know how to have a good time!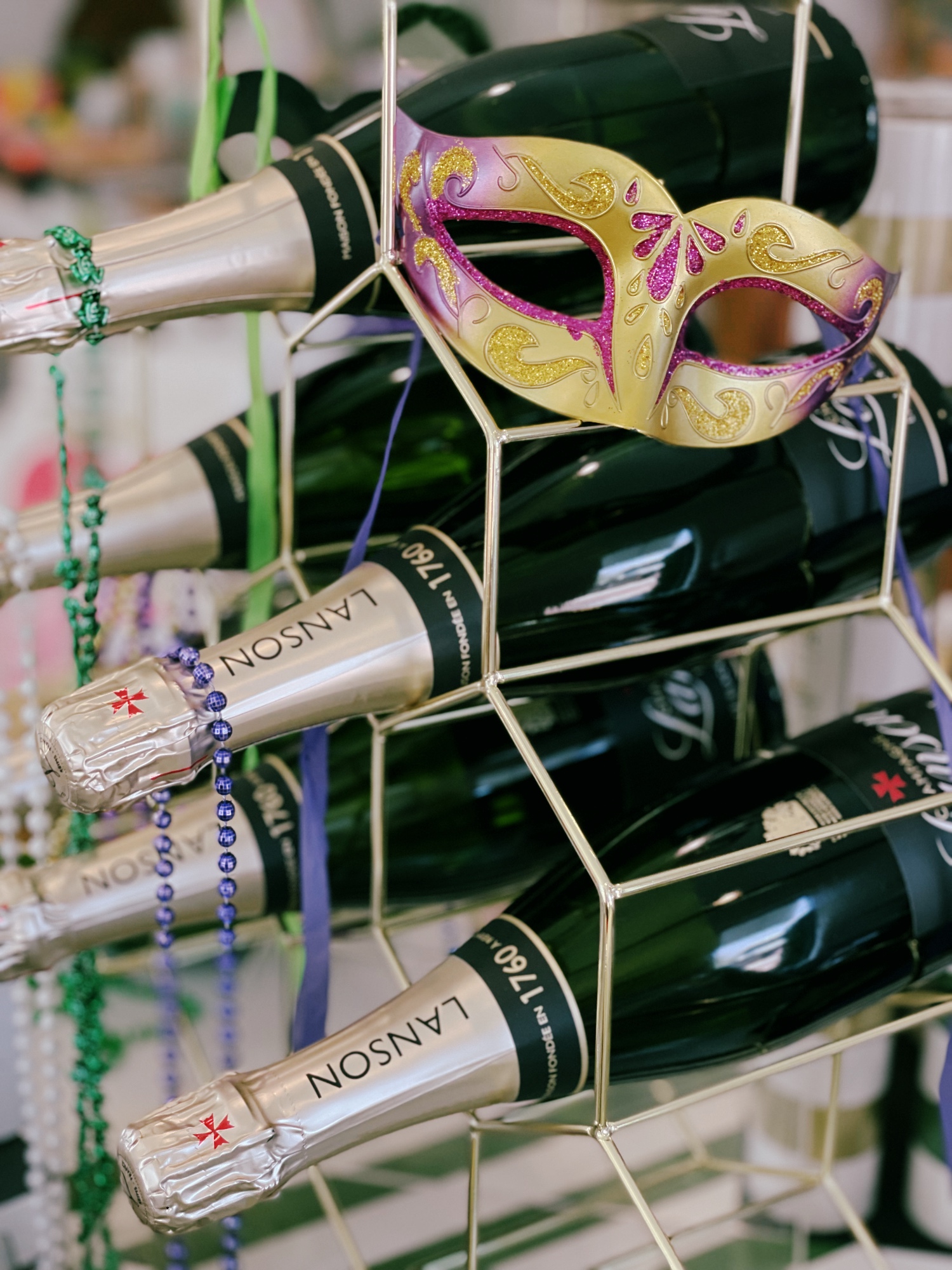 To transform your home into a Mardi Gras float, simply add a few essential elements:
Beads – No, no, no, no one is asking you to go all "Girls Gone Wild". Get your mind out of the Bourbon Street gutter and travel a little further up St. Charles Avenue to the more respectable parties. Here bright colorful beads are used as traditional Mardi Gras décor. Casually toss them over your lamps and sconces, set your charming flower vases on trays oozing with beads, and display your crystal and silver bowls with beads spilling over their edges.
Candles – Adding candles to your décor is representative of the Mardi Gras Flambeaux, luminous gaslight torches. These were originally used to light the way for the krewes' members. Now they are still in the parades and add a delightful festive air of excitement.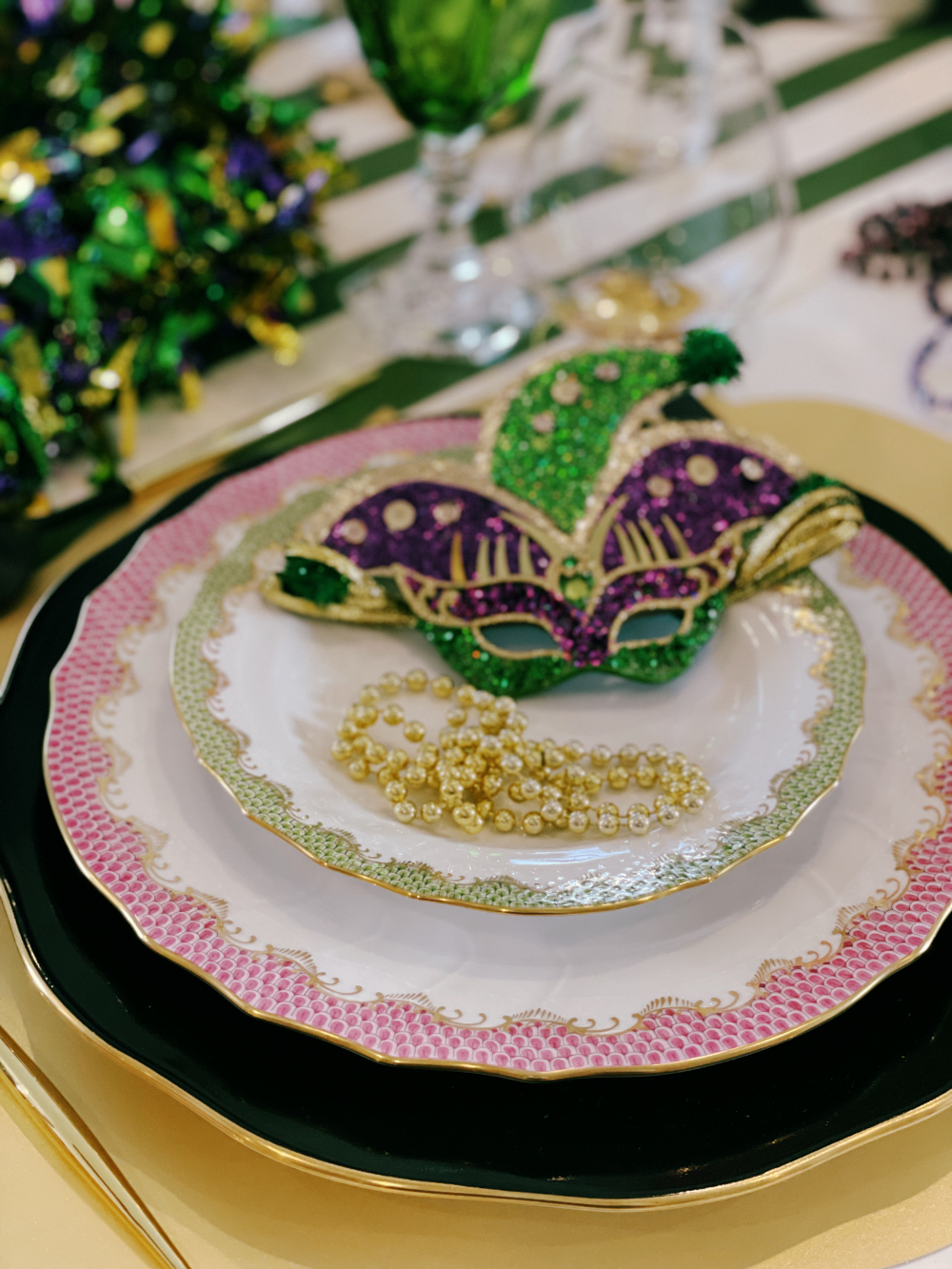 Jazz – One cannot possibly host a Mardi Gras party without the toe tapping, hip swinging, all-encompassing rhythm of jazz. Set your Spotify playlist with some classics; Preservation Hall Jazz Band, Rebirth Brass Band, Trombone Shorty, The Meters, and the gris-gris bayou magician, Dr. John. Before you know it, you will have your own Mardi Gras Mambo.
King Cake – A ring of rich braided dough topped with sugar in the Mardi Gras colors of purple, green and gold (purple for "justice", green for "faith", and gold for "power"). The tradition is to hide a small baby Jesus inside the cake (please don't eat the Jesus), and the lucky lady or gentleman that finds it in their piece is graced with luck and prosperity for the entire year
Serious Sips – Gone are the days of the freight train hurricanes…let's leave those for the frat boys. Here are a couple classic cocktails for your soirée. One must pay homage to the creole apothecary Antoine Paychaud and his Sazerac. It is a bit of a process, but no serious seersucker sporting man would consider sipping anything else. If your party is a bit earlier in the day, you cannot go wrong with Milk Punch. As consummate New Orleans hostess Julia Reed said, they are "addictively tasty and immediately restorative."
There you have it, all the ingredients for a perfect Mardi Gras Party, now …
laissez les bons temps rouler!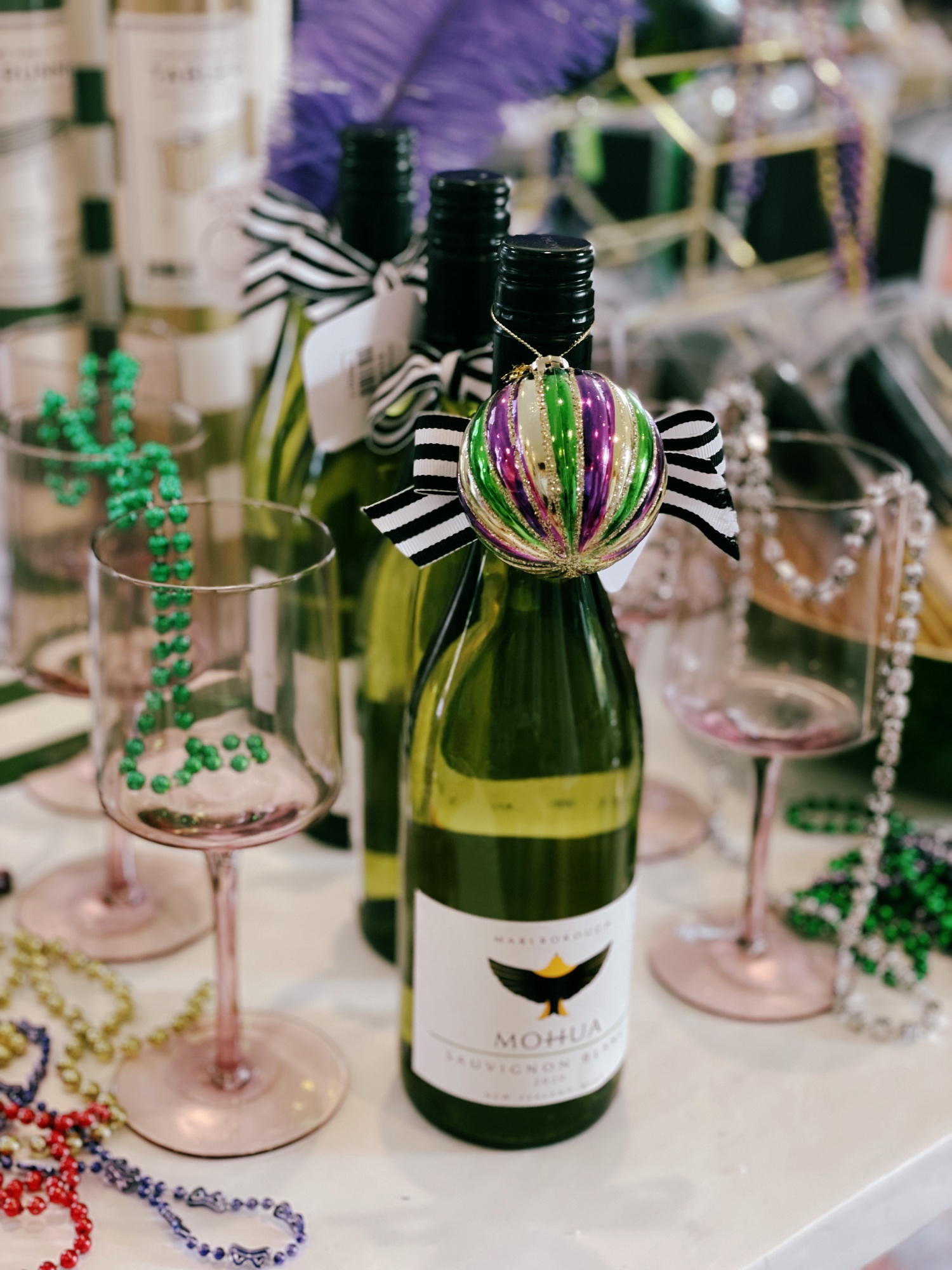 Sazerac 
1.5 oz Sazerac Rye Whiskey (while traditionally made with rye whiskey, bourbon is a delicious substitute)
1 cube sugar
¼ oz. Herbsaint
3 dashes Peychaud's Bitters
Lemon peel
Pack an old-fashioned glass with ice.
In a second old-fashioned glass, place the sugar cube and add three dashes Peychaud's Bitters to it, then crush the sugar cube.
Add the Sazerac Rye Whiskey or Bourbon to the glass with the Peychaud's Bitters and sugar. Add ice and stir.
Remove the ice from the first glass and coat the glass with Herbsaint, then discard the remaining Herbsaint.
Strain the whiskey/bitters/sugar mixture from the second glass into the Herbsaint coated glass and garnish with lemon peel.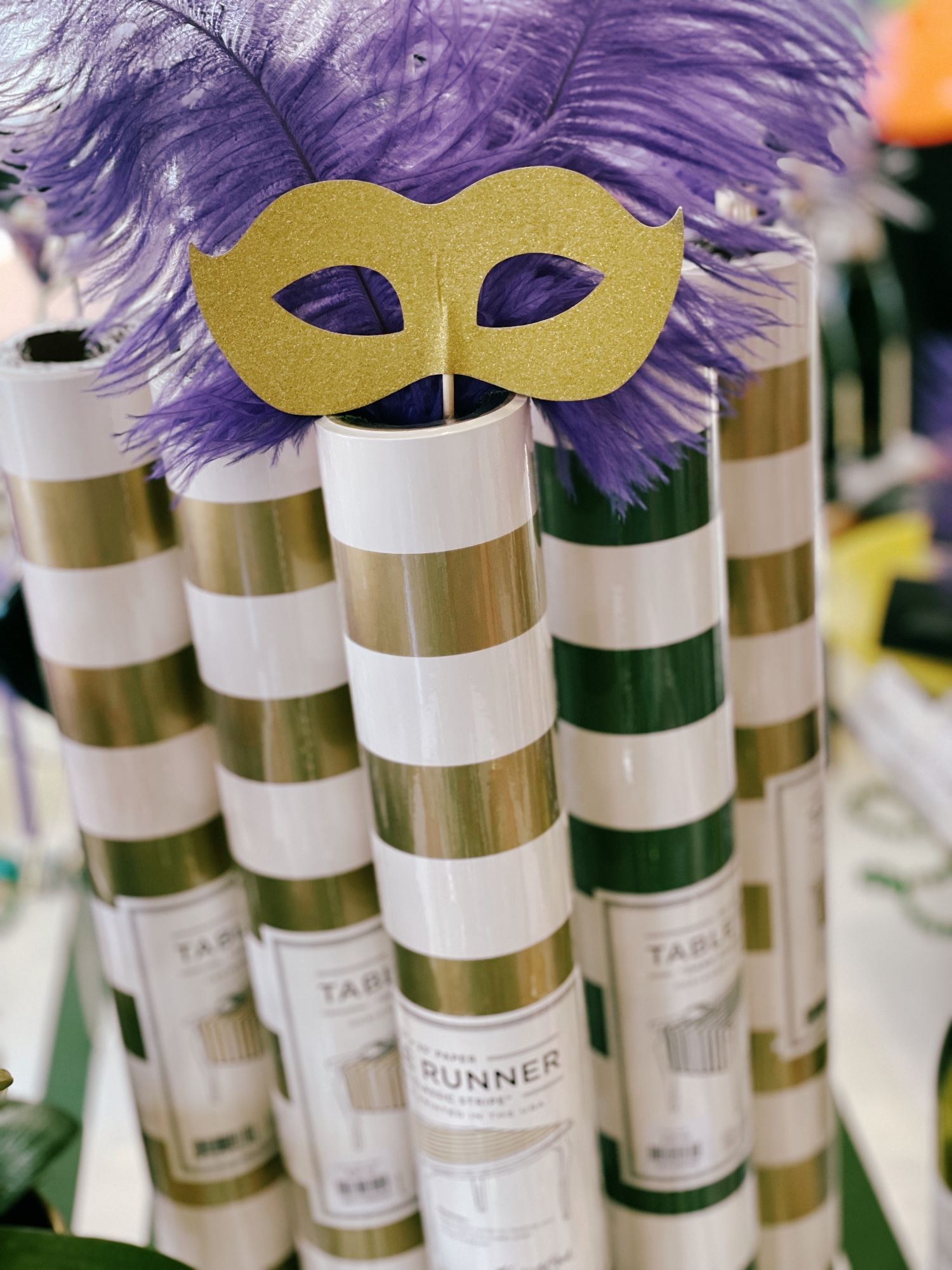 Julia Reed's Milk Punch
½ cup sugar
½ cup water
1 quart (4 cups) whole milk
1 pint (2 cups) heavy cream
2 cups brandy
1 cup bourbon
1 tbs pure vanilla extract
Freshly grated nutmeg for garnish
Make a simple syrup by combining the sugar and water in a saucepan.
Bring to a boil, cooking just until all the sugar has dissolved, 3 to 5 minutes.
Allow the syrup to cool. It may be stored, refrigerated in a jar, for up to two weeks.
Whisk the milk and the cream together in a large pitcher or punch bowl until blended.
Stir in the spirits and vanilla.
Add ½ cup of the simple syrup.
Taste and add more simple syrup as needed.
Refrigerate until thoroughly chilled.
To serve, pour into highball glasses and grate nutmeg on top.
*Leftover punch freezes well, think milk punch slushies!