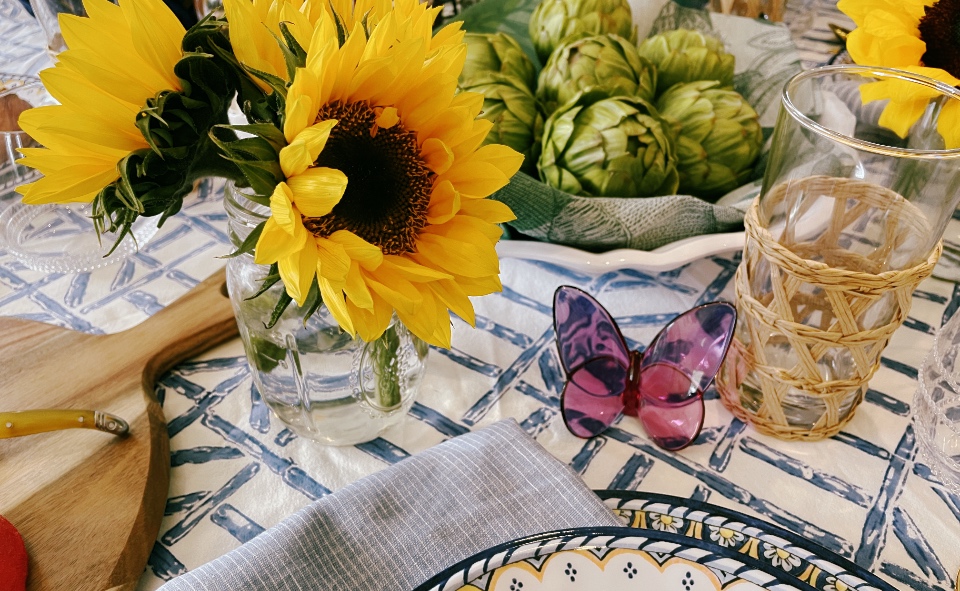 It's raining gold, tabebuia gold. If you are unfamiliar with these trees, please, let us introduce you. Every March, they announce spring has sprung by shedding last year's leaves and cloaking themselves in bright pink and yellow blooms. While both are truly stunning, the yellow trees have an enchanting charm. Their golden trumpets serenade us with a siren song beckoning us to come outside and play. And how do we play? By dining al fresco, of course.
Please save the paper plates for those Norman Rockwell summer evenings when all the neighborhood kids end up at your house exhausted, sunburned, and starving. When planning an al fresco evening, treat it with as much thought and care as you would any other dinner party. Allow the open-air to be your theater and the table your stage; you are the playwright, what story do you want to tell?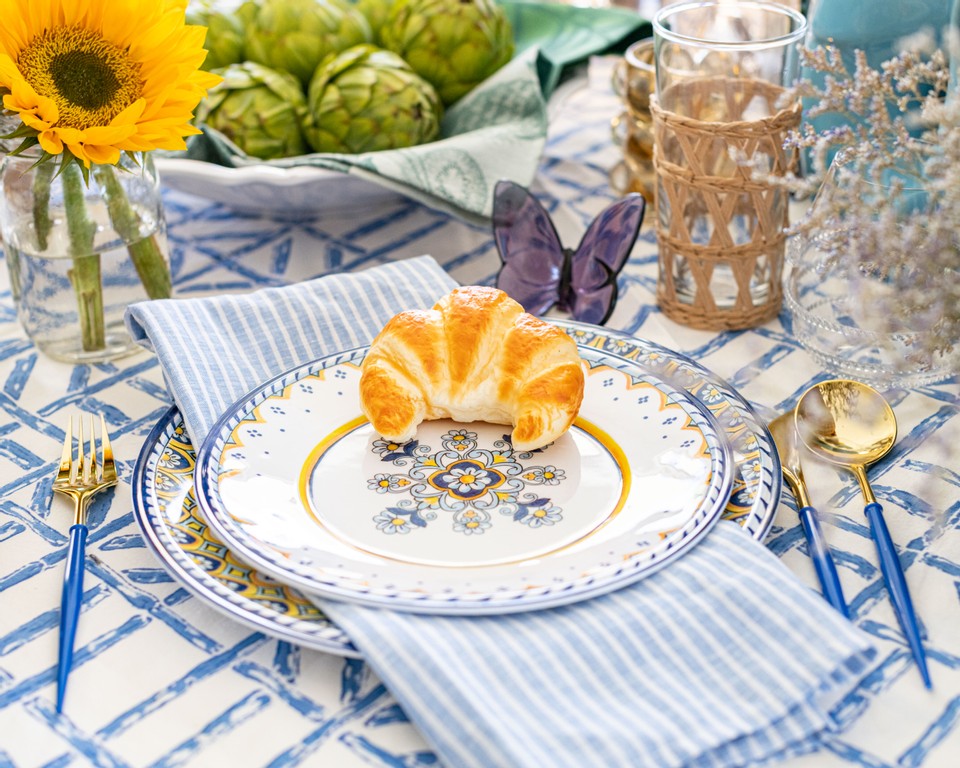 The rustic backdrop of a raw-wood table and our Sorrento tableware will have your guests dreaming of lavender fields and olive groves. Its old-world charm will completely disguise the fact that is 100% melamine. A good hostess should still be practical, after all. As for your stemware, wine glasses do not have to match water goblets. Layer in crystal wine glasses with acrylic water tumblers. Add your crisp pressed linen napkins, perfectly polished flatware, and voila, Shakespeare à la patio.
Flowers are an essential element for any table, especially when dining outside. In general, we love color and usually stick to a theme. However, there is something freeing about setting an open-air table, and here is a chance to let our hair down and go a little crazy. Use jars, pitchers, mismatched vases, anything that brings a smile. Keep in mind that a jar of water can be placed inside anything not watertight, turning it into a vase. Show off your ranunculus with roses, and your lavender with lilies; let yourself go and get wickedly wild with stems.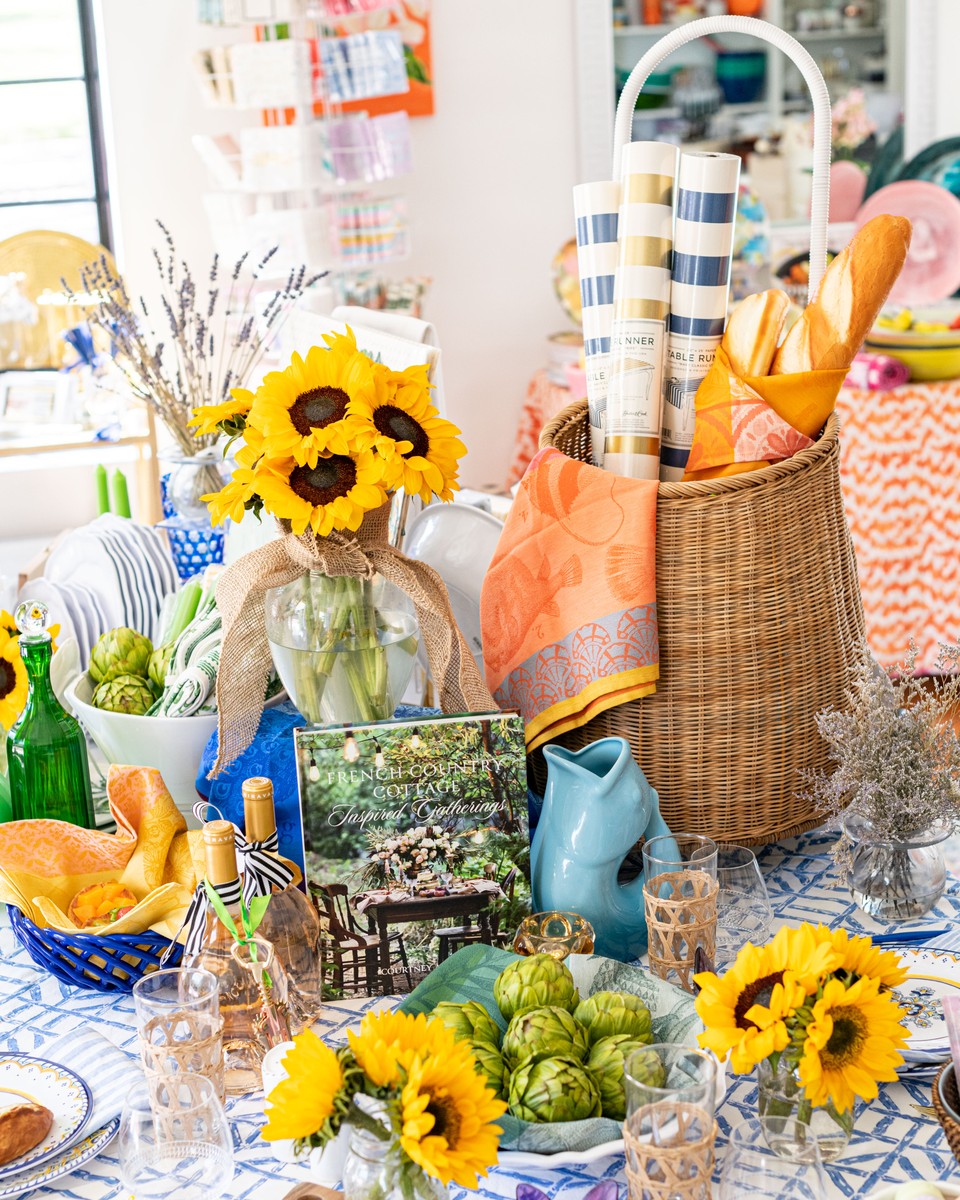 The curtain rises as your guests arrive. The opening scene sets the tone by serving a chilled aperitif with a light nibble. Dining alfresco encourages us to put away our phones and set aside our concerns and distractions. As the candles flicker and the stars begin to shine, your guests will quickly slip into a slower pace, relaxing and enjoying each other's company. For one glorious evening, you have created "La Vie en Rose."
Shop The Look
Sorrento Salad Bowl
$50.00
Sorrento Dinner Plate
$24.00
Sorrento Salad Plate
$19.00
Limoni Salad Plate
$44.00
Lattice Highball Glass
$16.00
Blue Bamboo Tablecloth
$68.00