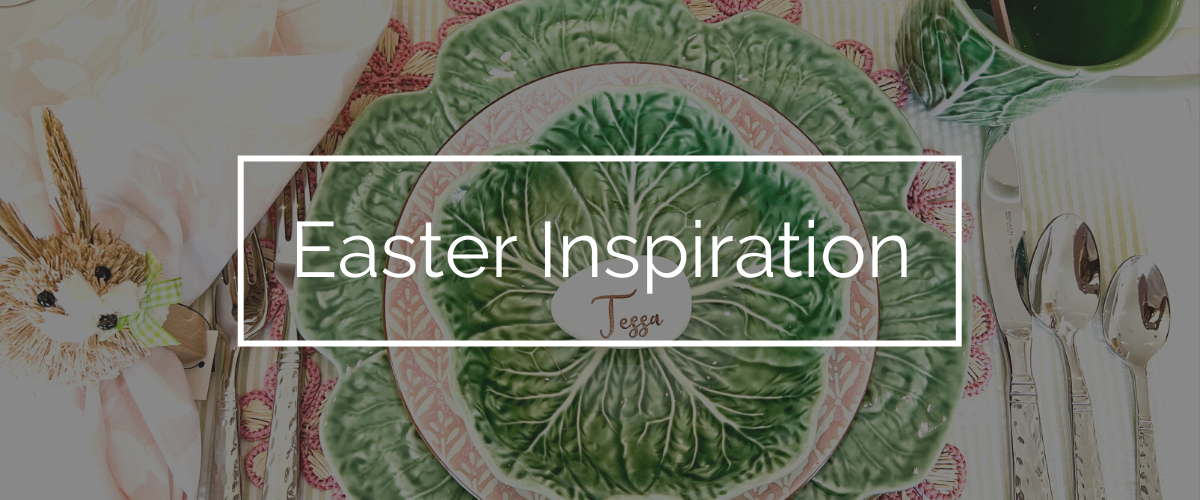 To brunch or not to brunch, that is the question.
Every Easter we fill baskets with brightly decorated eggs, set beautiful tables with pinks and greens, and surround ourselves with flowers galore. The question we ask ourselves is, should we serve a casual brunch or a more formal meal? It is never an easy choice. So why not both, a kid-friendly brunch and then a more formal Easter supper later in the day? Who says you can't have your jelly beans and eat them too!
Easter Sunday is always jam-packed with church services, visiting family, and egg hunts. Planning ahead is vital and will help you enjoy the day. Set your table well in advance and have all your serving pieces ready to go. We like to put post-it notes on each dish saying what will go on/in it so that those helping know where to put things. When planning your menu, you will want to incorporate a few make-ahead dishes; some served at room temp, like Morning Glory Muffins, and some easily popped in the oven just before serving, Quiche Loraine is a great choice. Add a big salad, and some fresh sliced fruit, both of which can be assembled before your guests arrive. Brunch is the perfect time for a mimosa or Bloody Mary Bar. Don't offer too many choices, this is mid-morning after all, let's save the wine for supper.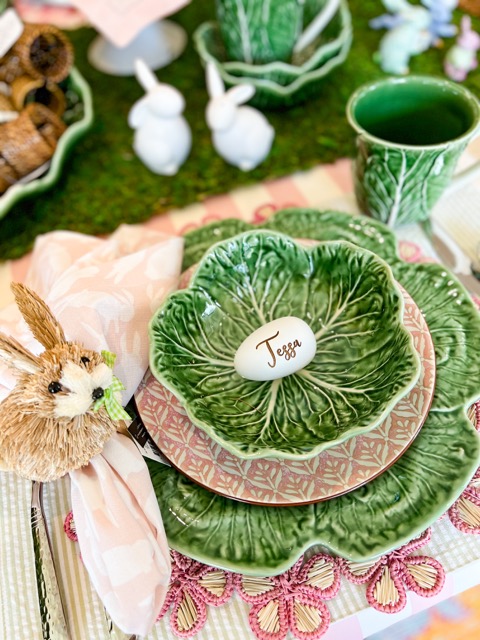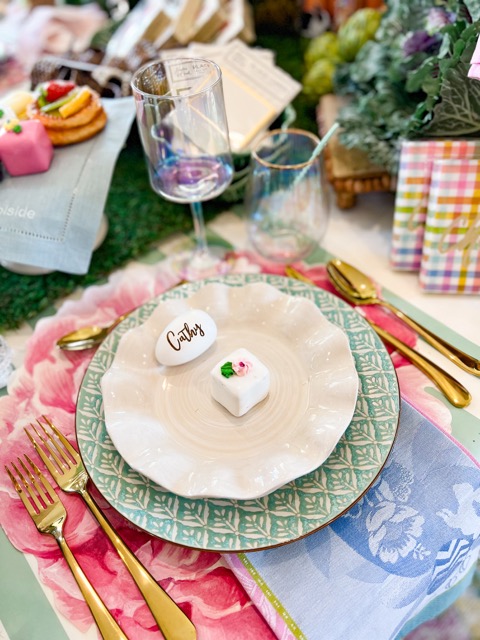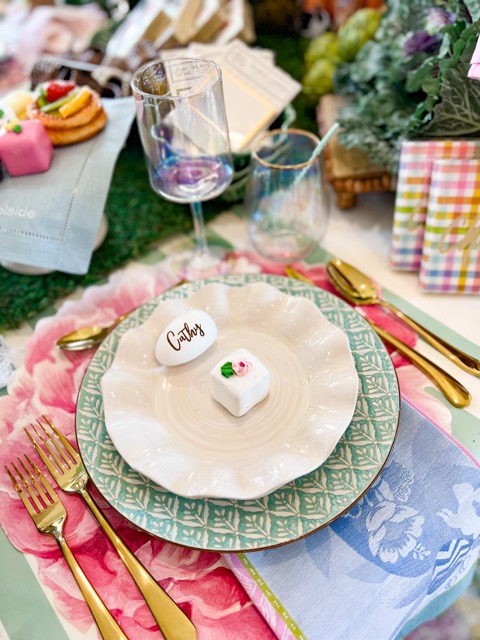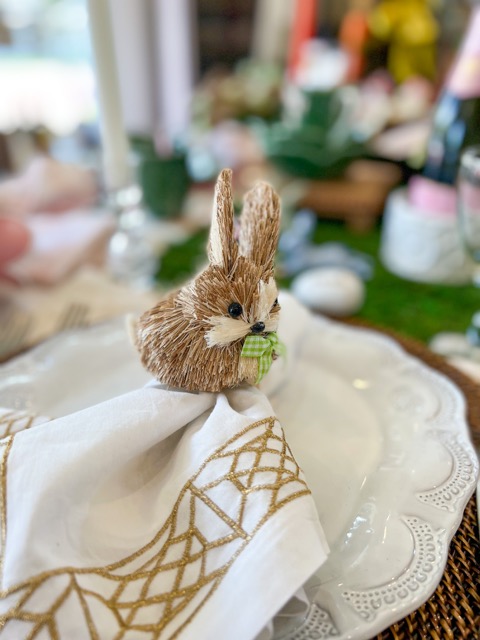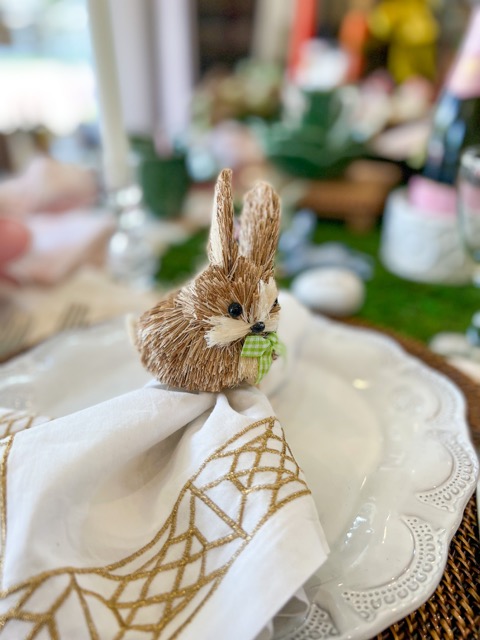 Now you are ready to enjoy your family and friends. Consider mixing up the classic Easter egg hunt, with Cascarones. They are blown-out colored eggs filled with confetti and sealed with a disguised piece of tissue paper. These pint-size piñatas turn any Easter brunch into a fiesta. Get ready to laugh as your guests chase each other down breaking them over each other's heads. One little word of warning, these are for OUTSIDE. One of our friends did not get this message last year, & she is still finding confetti in her home.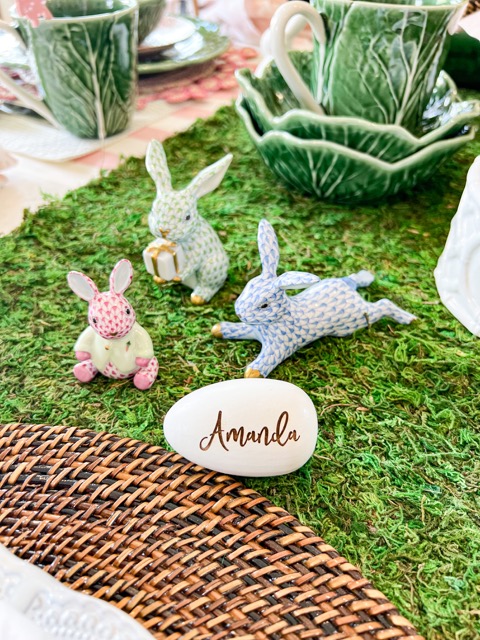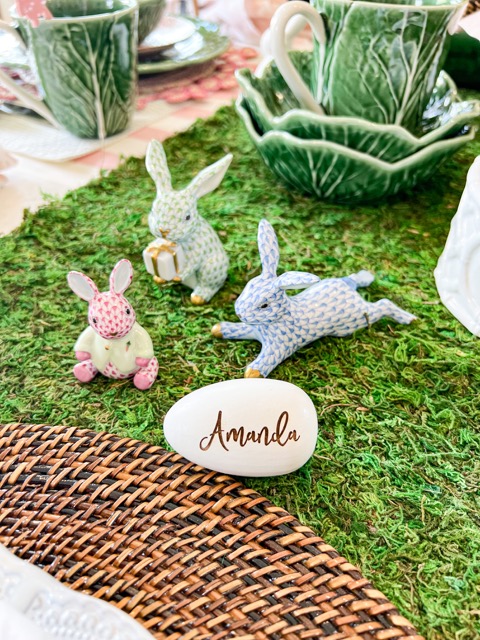 After a well-deserved rest, it is time to put on your pearls for a more formal Easter celebration. There is no need to find yourself in a tailspin, all your planning will help avoid a full-on kitchen breakdown. A glazed spiral ham is an easy traditional choice. They come precooked and all you need to do is warm it in the oven. Lamb is also a classic Easter dish, and there are many delicious yet easy recipes. Asparagus with hollandaise is a perfect side dish for either. Don't let hollandaise scare you, it is surprisingly easy to make. The key is to make sure the butter is hot, and add it slowly so as not to scramble the eggs. Serve with a big green salad and a chilled Sancerre.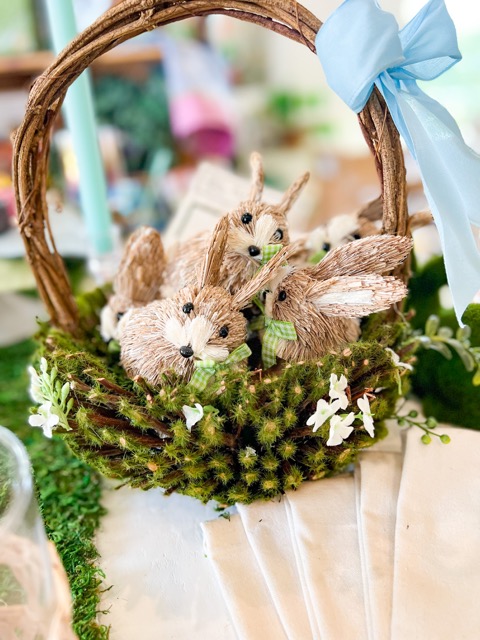 Hollandaise Sauce
Ingredients:
Egg Yolks – 3 eggs
Lemon Juice – 1 tablespoon
Dijon – 1 teaspoon
Salt – 1/4 teaspoon
Cayenne Pepper – just a pinch
Butter- 1/2 cup of melted butter
Steps:
Melt the butter in a microwave for about 1 minute until hot.
Combine the egg yolks, lemon juice, dijon, salt, and cayenne pepper into a high-powered blender or Cuisinart and blend for 5 seconds.
Slowly stream the hot butter into the mixture as the blender runs.
Pour the sauce into a small bowl and drizzle over your meal!
If your sauce breaks, here are two methods to help bring your sauce back to life:
Blend 1-2 tablespoons of boiling water: As you're blending, slowly add in the hot water and blend until the consistency is right.
Add an extra egg yolk: While the blender is on, add an extra egg yolk with a teaspoon of hot water into the blender and blend until it becomes perfectly creamy.
Now press your seersucker, pull out the eyelet from the closet, and bunny hop your way through a beautiful Easter celebration.
Shop the Table
Die Cut Cabbage Placemat
$30.00
Peony Cocktail Napkin
$7.00
Beige Cabbage Cereal Bowl
$34.00
Cabbage Tureen
$175.00
Die-Cut Hydrangea Placemat
$30.00
Cabbage Salad Bowl | Large
$100.00
Storybook Bunny Figurine
$310.00
Beige Cabbage Dessert Plate
$25.00
Die-Cut Hibiscus Placemat
$30.00
Cabbage Tureen | Beige
$175.00
Lounging Bunny Figurine
$415.00
Bunny and Lovey Figurine
$370.00
Scholarly Bunny Figurine
$370.00
Funny Bunny Figurine
$310.00
Celebration Bunny Figurine
$370.00
Celebration Bunny Figurine
Bunny with Heart Figurine
$310.00
Bunny with Heart Figurine
Sweater Bunny Figurine
$275.00
Blue Bunny Coaster
$35.00
Pink Bunny Coaster
$35.00
Beige Cabbage Charger Plate
$55.00
Beige Cabbage Dinner Plate
$34.00
Pirate Bunny Figurine
$485.00
Painter Bunny Figurine
$370.00
Cabbage Mug
$40.00
Cabbage Cereal Bowl
$34.00
Cabbage Dessert Plate
$25.00
Cabbage Charger Plate
$55.00
Cabbage Dinner Plate
$34.00